Reception and Visitor Management - Sesamo Reception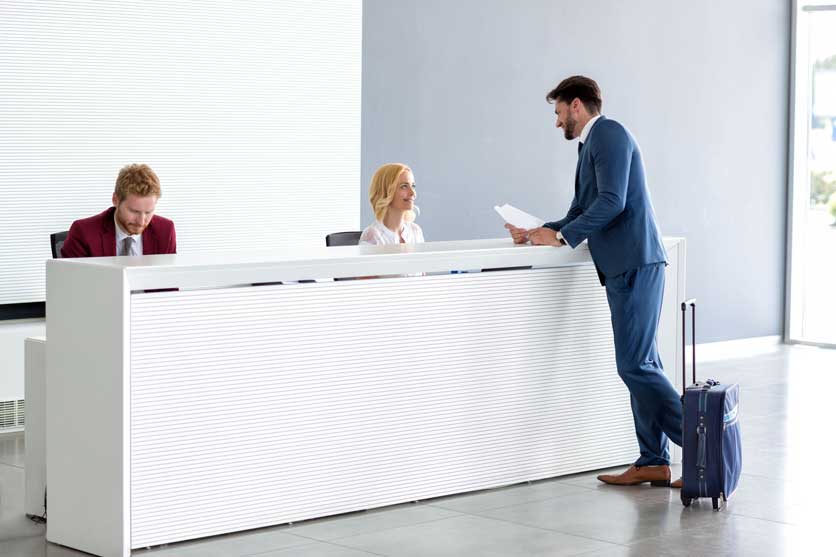 Sesamo Reception is the software module of the Sesamo Access Suite that allows you to: 
register the visitor with personal and company data
issue a numbered and printable pass
plan a visit with the visitor's data
WORKSTATION WITH OPERATOR
An operator can record the visitor's data on the Visitor Management panel, such as name, surname, company and other optional information. If the person has already been to that Company, the data will be automatically retrieved facilitating the compilation. 

The closure of the visit can be automated thanks to the presence of a badge reader that acquires the data and closes the visit on the software. 
SELF-REGISTRATION WORKSTATION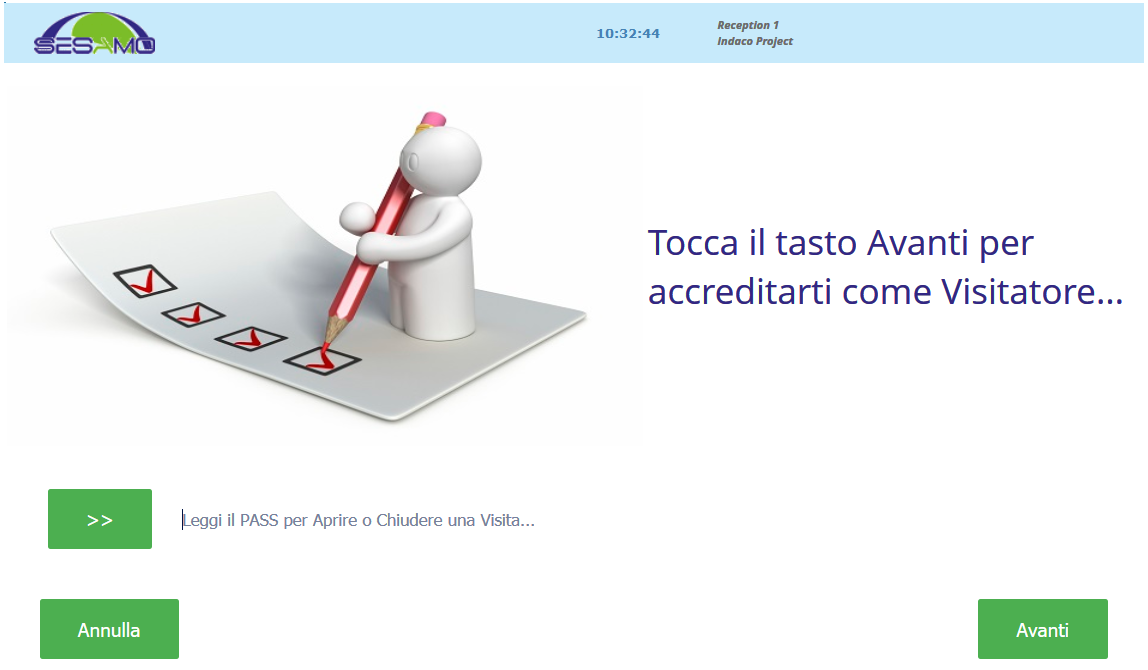 A new interface, designed for a touch screen information point, through which visitors accessing the company can register autonomously by entering their data, such as surname, first name, the company they work for, the company contact with whom they have an appointment, any attendants, vehicle number plate, signature (made graphically on the touch screen).
Also in this case it is possible to issue a coded card or badge with barcode and to close the visit simply by reading the badge on a special reader connected to the touch screen information point.
OCCASIONAL VISITOR
Occasional visitors can only be registered with name and surname or with complete personal data, including identity document and details of attendants.
Normally, the occasional visitor is not allowed to enter the building and must always be accompanied by his/her contact person, who is registered within the data of the visit. However, you can choose to enable him/her for all crossing points or for selected passages only, for example those that take the visitor to his/her contact person.
The visitor's data are automatically stored and their historicization allows you to call them up quickly in case of a subsequent visit and to create a visit statistics.

REGULAR VISITORS
This category normally includes external consultants, cleaning companies, maintenance workers, couriers, i.e. all those who have a lasting relationship with the company.
In this case, the person in charge of the system can give these subjects an access badge, so that the regular visitor is free to pass through the building without going through the reception. The use of the badge and accessibility may be limited to certain days and time bands.
The punching of the regular visitor can be used to draw up a monthly card, with the total hours worked, useful to verify the correctness of the work performance.

SESAMO Viewcam allows you to interface a traditional  IP camera supplied with the application or even pre-existing, where live video will be displayed on a special screen. It also allows, through a mouse click, to enable access opening with the registration of the data of the person who enabled the passage.
The module, being available from any PC on the network, can be used to physically replace the reception desk, creating virtual receptions for each office.
CHIEDI INFORMAZIONI SESAMO RECEPTION