Automated Kanban shelving system with RFID and user identification -TomBox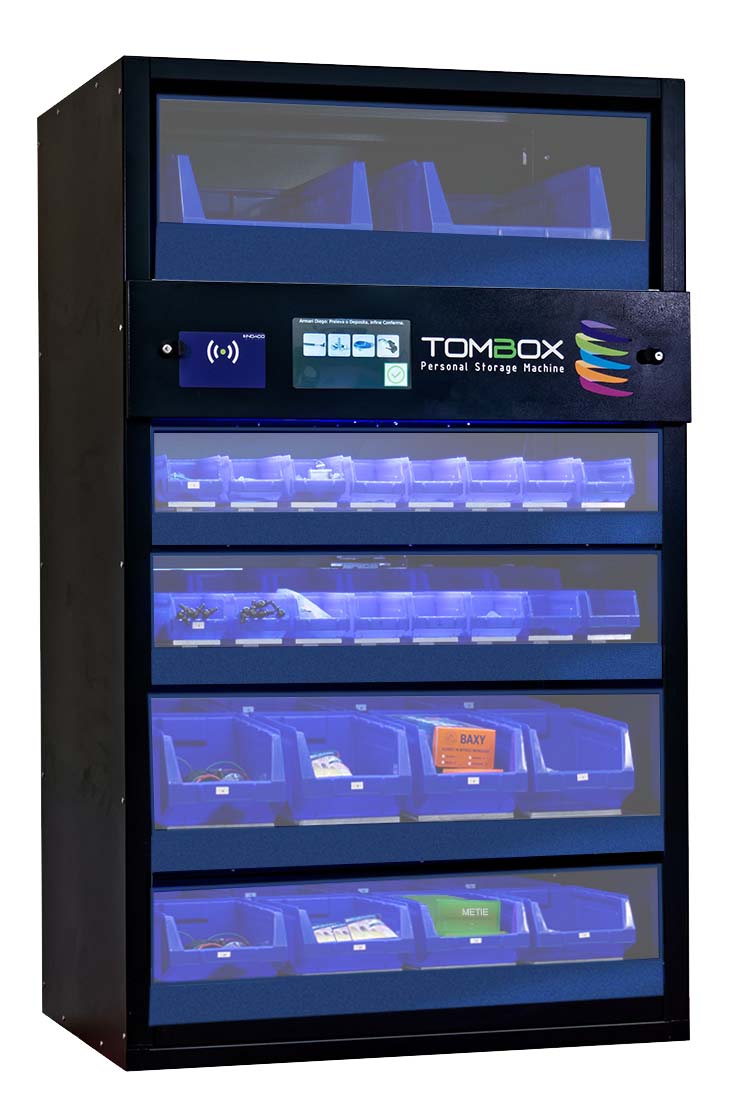 TomBox is the intelligent kanban system that automates the picking and management of small metal parts, MRO items and other objects with high frequency of use.
This automated storage is developed by Indaco Project to manage in real time the handling of components and to optimize the production. 

By using the badge, the user is identified and is authorised to collecting the items.

 Kanban system automation - Just in time management and lean manufacturing 
Identifies who takes the items using the
personal badge
---
Detects the quantity taken automatically by weight sensors placed under the load cells


---
Reduces consumption and allows the company to understand what is used most and in what work phases

---
Send automatic e-mails when reaching the sub-contract and for reordering to the supplier, canceling production stops

---
It improves the planning of the daily requirements of the articles on the production lines and optimizes the processes

---
Can be
combined with Rosk
for disposal and recycling of materials
---
Integrazione Rosk per la raccolta differenziata e TC per e-learning all'uso dei DPI e dell'attrezzatura

---

Sesamo Dispenser is the WEB software that manages and records the entire flow of objects movements related to the supply warehouse, Personal Storage Machines, up to the user's activities.
A single database where all the historicized data converge and can be processed through custom statistics and analysis.

The program is multi-company and also allows you to manage distribution systems located in several branches and cities..
Sesamo Dispenser  is a real management system that makes PSM solutions IIoT (Industrial Internet of Things) able to address Industry 4.0.

Sesamo Dispenser:
Acquires, organizes and historicizes all handling data
Provides a remote diagnostics and  remote control system
Triggers alarms and alerts and sends e-mails to managers
Manages  deadlines and reordering of items to supplier
Processes standard and customized consumption statistics 
Communicates with factory management software such as ERP (SAP Connected), MRP, warehouse automation software
and many others...
Sesamo Dispenser is available under license and in SaaS (Software as a Service) mode,  which allows you to control everything from the internet without any installation.