Automatic management of bunches of keys and valuables - KeyCo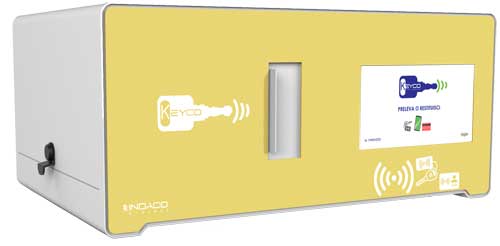 KeyCo is the system that allows the automatic key management in complete safety. Check H24 the  distribution and storage  of any type of key in the car fleet and in departments, offices and rooms.
The 24 internal and non-visible boxes guarantee the  confidentiality of the contents and also allow you to store valuable objects and documents. Then, each operator must identify himself/herself before the collection and can only access the boxes that the company decides to enable, without possibility of errors.
 Each user enabled to the collection can independently book the keys. Therefore, access to the box associated with the chosen key will be reserved to the user for the day and time established. After a certain period, it will be possible to automatically reactivate access to the box for all users.
Check and recording of collection and return of the key


---
Reservation of the key for a specific day and time


---
Large touch screen that allows an immediate consultation of the availability of the key
---
Check of the return of the key and sending of alerts in case of non-delivery.
---
KeyCo automates and tracks the delivery and return of keys.
FIELDS OF USE
The system is designed for all private or public companies, where there is a company car fleet or the need to monitor the movement of keys for apartments, offices or company departments.

In particular, KeyCo can be used by:
Production companies
Hotels
Banks
Public bodies
Hospitals
Gyms
Swimming pools
Post offices
Museums

SIZE
KEYCO
| | |
| --- | --- |
| Height |    30.00 cm |
| Depth |    46.50 cm |
| Width |    66 cm |
INDIVIDUAL BOX
| | |
| --- | --- |
| Height |  13.50 cm |
| Depth |  11.00 cm |
| Width  |   Min 1.7 cm - Max 4.00 cm |