Visitor Management - Sesamo Reception

It is the software module of the Suite SESAMO for the registration and management of visitors. The programme allows registering fast the database of the visitors, by issuing eventually a numbered and printable pass with the generality of the visitor.
There are two possibilities of registration, it depends, if the visitor is occasional or frequent.
NEW
NEW SELF-REGISTRATION MODULE
A new interface, designed for an informative touch screen point, through which the visitors accessing the concern can be registered autonomously by entering their own data, such as surname, name, concern to which they belong, concern contact with whom they have appointment, eventual accompanying persons, vehicle plate number, signature (carried out graphically on the touchscreen). There is also the possibility to issue a codified pass and to allow closing the visit simply by reading the Pass on a suitable reader connected to the informative touch screen point.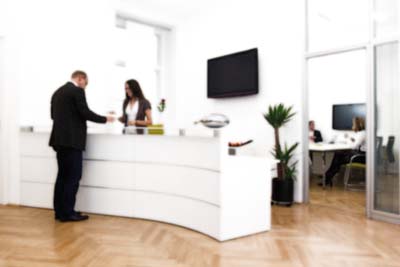 OCCASIONAL VISITOR
The occasional visitor can be registered only with name and surname or with a complete database, including identity document and generality of the accompanying persons.
The occasional visitor is not usually enabled to access the entrances of the building and he must be always accompanied by his contact person, registered inside the visit data. You can choose to enable him for all the passage points or just for some selected entrances, e.g. the ones leading the visitor to his contact person .
The visitor data are automatically kept and their historicisation allows recalling them fast in case of a subsequent visit and creating a statistic of the visits.
FREQUENT VISITOR
The external consultants, the cleaning concerns, the maintainers, the couriers, and all those who have a lasting relationship with the concern fall normally within this category.
In this case the responsible for the system can deliver them a badge enabled for the accesses, so that the frequent visitor is free to transit in the building without passing at the reception. The use of the badge and the accessibility can be limited to determined days and hour bands.
The clocking-in/out of the frequent visitor can be used to draw up a monthly card, with the total of the worked hours, useful to verify the correctness of the working performances.

SESAMO Viewcam allows interfacing a traditional IP camera supplied with the application or also pre-existing, where on a suitable screen, the live video will be visualised. Besides, it allows through a mouse click, activating the opening of the accesses with the registration of the data of the person who has activated the entrance.
The module can be used from any PC of the network and it can be used to replace physically the reception station, by creating virtual receptions for every office.