Rosk - Tracing of disposal and differentiated collection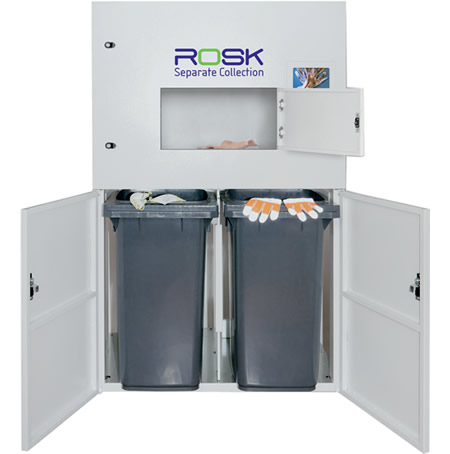 Rosk is the system for tracing the disposal and the differentiated collection. It allows to eliminate the wastes and save on the consumptions thanks to the control of the objects to be disposed or washed.
Its aim is the automation of the differentiated collection process by obtaining a complete traceability of all the returns, complying with the European Guidline about the management of the wastes.
FUNCTIONALITY
- Identifies who throws
- Registers what is collected
- Detect the object weight and picture
Through the reading of the badge, the user is addressed towards the correct Rosk container and the return is archived in order to be able to verify the characteristics and the state of the item.
Once the object has been inserted inside Rosk, it is checked by a system of recognition photographing and verifying that the inserted item is the same as the declared one. On a contrary case, you will be able to recognize easily the person who inserted an object not destined to that container.
ADVANTAGES:
Avoid wastes and dispersions inside the company
Recycle and reuse objects or their parts by avoiding as much as possible the destination in landfill
Contain objects with chemical/toxic substances (such as gloves/clothes in chemical/hospital concerns)
Create an historical record with all the pictures of the disposed items and the object's state data
Control and digital recognition
Send automatically warning e-mail when reaching the maximum filling level of the containers
Send real time reports and statistics, so you can plan how better saving assets and invest in more quality items that are mostly performing and effective. Through the statistic motor, it is possible to obtain and export any report, by interfacing with any management software, such as SAP
Rosk protect the environment, in a wider range of social responsibility and help to comply with European Regulation