TomWork - Automatic Dispenser for Personal Protective Equipments

TOMWORK  - AUTOMATIC DISPENSER FOR PEEs ( Personal Protective Equipments) and tools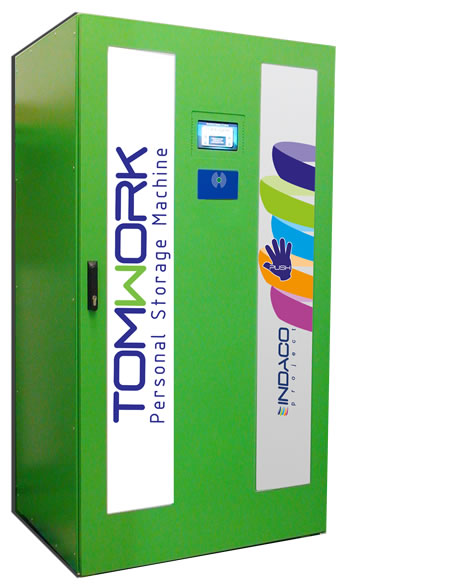 TomWork is the automatic PPE and consumables management system of the Personal Storage Machine line.
It's not just a vending machine but it's a cost-effective way to automate your consumable and durable management, eliminating being out-of-stock and having excess inventory, reducing reordering costs, guaranteeing a punctual registration of the picking and activating a series of alerts and alarms, with easy-to-use web software Sesamo Dispenser and flexible-configuration structure.

TomWork handles up to 710 PPEs and tools of diffrent type and dimension of items such as accessories, stationery, equipment, objects for the first aid and consumables.


ONE DIFFERENT ITEM FOR EACH BOX

TomWork control every single box and allows you to dedicate the right space for each item, on the basis of the real consumptions (for exemple if there are different sizes of gloves with different consumption), so the emptying of the level will be uniform and regular.
USER IDENTIFICATION
TomWork recognizes different type of identification systems (magnetic badge, RFID, Mifare, Biometric), through which the user is recognized and driven by the machine for the withdrawl of the objects for which he is enabled.
REGULATORY COMPLIANCE

TomWork helps companies to comply with European Regulation about safety management in working environment and standard such as OHSAS 18001, ISO 45001:
Registration and certification of the delivery of Personal Protective Equipment (PPE);
Automatic alerts e-mail when the employee does not take the right amount of PPE or do not take them at all;
Self-enrollment in instruction courses for the use of the PPE withdrawn;
Access to only tools that can be used based on the job performed by reducing the risk of exposure to dangerous equipment, for which it would be necessary to have dedicated personnel.
TECHNICAL CHARACTERISTICS: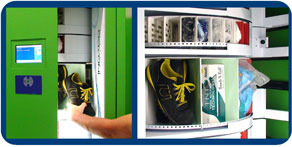 Dispenser  Dimension

190 (Hcm) x 100 (Wcm) x 78 (Dcm)

Disk number

Max 10

Disk Division

72, 36, 24, 18, 12, 9

Box height

11 cm STANDARD  DISC
26 cm DOUBLE  DISC
46 cm TRIPLE DISC

Depth

27 cm

Capacity

Up to 710 objects

Display

Colour backlit Touchscreen  10"

Badge reader

Magnetic, Transponder 125 Khz, Mifare,

HID or biometric reader

Data Connection

Ethernet – WIFI bridge (optional) – Router 3G

Feeding

220 V – 12 V

FEATURES:
Double and Triple Disk
TomWork is the only automatic PPE dispenser that can contain larger objects, with a personalized configuration of the internal structure. The size of the disks can also be change in a later time;
Reserve your PPE with TomWork choosing the number of the object you need and get them at the Manual Distribution Point with your badge
Multiple Withdrawal of items in a single operation
ADDITIONAL MODULES:


ROSK - Disposal Tracing with Separate Collection
Rosk is the system to control items to be disposed of or to be
washed, with separate collection. It records the image and weight of the disposed objects. Rosk traces and automates the process of separate collection, offering advantages in saving and respect for the environment.
Go to Rosk