Pedestrian Access Control - Sesamo Accesses

WEB ACCESS CONTROL SYSTEM
SESAMO is the software Suite by Indaco Project developed completely in WEB environment and designed for the management of the Access Control in Concern.
It incorporates multiple modules able to satisfy all the needs in the following fields: pedestrian access control, vehicle access control, visitor management, domotics, key management, automatic DPI management. SESAMO uses technologies in WEB environment and it is developed on "Microsoft.Net" and Database SQL Server platform.
There are not limits for the number of users that can have access to Sesamo, as well as the number of access control terminals that can be connected to the programme is unlimited. Sesamo is perfectly integrated with the other data collection applications, such as the attendance control or production systems.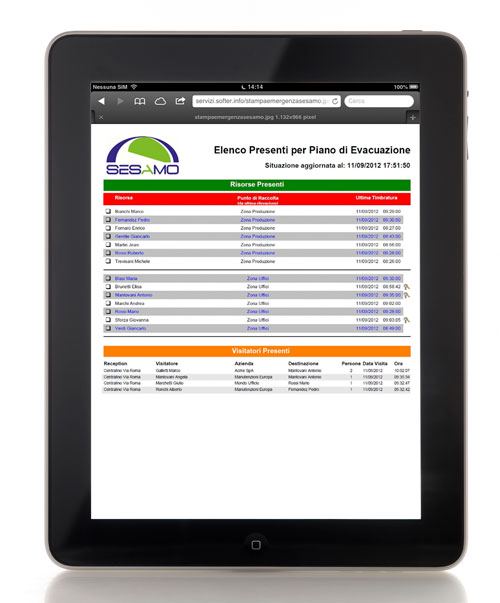 LIST OF THE PRESENT PEOPLE FOR EVACUATION PLAN
The law 81, rule on the security, has been in force for few years and it requires the concerns to design a healthy and safe working place, where the employee can live without risks for his own health. This means, among the other things, to arrange systems able to duly supply a list of the present people inside the structure in case of emergency. It must be accessible also in case that the informative system does not work anymore.
The ideal solution consists in having an updated situation of the present persons visualised on smartphone, tablet or any instrument able to access the reports generated in real time and present on the external concern servers.
Sesamo is able to supply a list of the persons present in concern in real time, combining the information coming from the different modules. The programme does not consider only the employees (registered by Sesamo Accesses), but also the possible visitors (through Sesamo Reception) and those who are exempted from clocking-in/out of the card, e.g. senior managers and directors.
Sesamo saves a reliable photo of those who are in concern minute by minute and divides the present persons according to collection points that can be registered, that is, fixed points present inside the database of each employee, or dynamic, that is defined automatically according to the zone in which the employee is situated at the time of the emergency.