The distribution of objects in the company becomes even more efficient and functional thanks to the new Multiple withdrawl.
If on one hand the control on safety and consumption savings are the most requested by the Companies, on the other hand, the simplification and greater speed of withdrawal operations is the plus requested by the workers themselves, who daily use the TomWork + PSM to take the necessary items during the work shifts.
Direct contact with customers has allowed us to develop a new system configuration TomWork + starring the Multiple withdrawl.
HOW MULTIPLE WITHDRAWL WORKS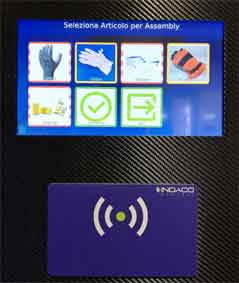 Thanks to the new Multiple Withdrawl functionality, the user can select and collect multiple references in a single operation, avoiding repeating the action over  and over again for different objects.
 Through the Sesamo Dispenser web software it is possible to create Groups of articles to associate with a specific person or job and to collect them all together  at the TomWork +.
 Following the identification of the user, TomWork + shows on the touchscreen the groups related to the task of that user and the single objects that can be taken; At the end of the selection, each selected article is made accessible automatically via the withdrawal window.
 The PSMs are increasingly recognized by workers as a tool to support their working day, as they provide the operator with the easiest and quickest of everything they need.
THE VISITORS KIT
Among the various requests of the companies there is also that of being able to make available to the kits in order to speed up the delivery to the people who visit the establishments, and to guarantee the access in safety also to those who enter the company occasionally, like the visitors.
Thanks to the integration between the Sesamo Reception software that generates the visitor's badge and the Multiple withdrawl, TomWork + presents to the user exactly and only the PPE addressed for him, allowing him to receive the articles independently.
THE ADVANTAGES OF MULTIPLE WITHDRAWL
Avoid creating queue and slowdowns at the beginning of the shift
Simplify picking operations by workers
Automatically guide the user to the pick-up
Associate precise tasks with work tasks and phases
Provide pre-configured kit of items
Have even greater control over visitor safety
Implement different statistics for work phase, object category and user
All this will allow a more specific control on the consumption of objects distributed to visitors or occasional collaborators, separately from those intended for employees, generating complete and targeted statistics.
ASK FOR A DEMO: