BobLock - Automated Locker System for PPE and large products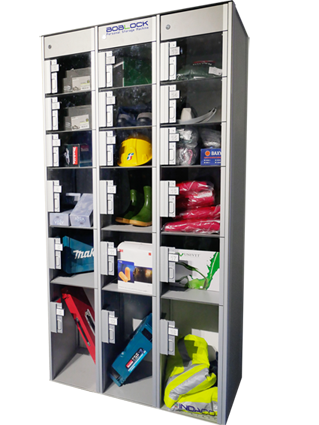 BobLock is the automated locker of the Personal Storage Machine line which manages the distribution of clothing and work equipment and also of large items.
As a storage and dispensing systems provide secure accountability for reusable assets and consumable products, ensuring your team has exactly what they need, when and where they need it 24/7.
All the moviments are recorded and once the data has been detected, it is possible to create targeted statistics, such as the flow of the objects and the state in which the articles are returned at the end of the workshift.
In order to make the refill management easier, the system controls the internal stocks and the sub-stock, sending in real time and exportable reports.
BIG SIZE OBJECTS MANAGEMENT

Indaco Project thanks to BobLock achieves the goal to automate the management of articles with non-standard dimensions and significant weights, that do not find a place within the other Personal Storage Machines and that otherwise would continue to be distributed manually by dedicated personnel.
With Bobock, all the articles will be recorded within the same web software Sesamo that will return a single database so that you can generate overall statistics, divided by articles, departments, tasks, point of distribution and other customizable parameters.
IDENTIFICATION SYSTEMS
BobLock integrates several tracking solutions that capture information into one central database and allows different identification systems, such as magnetic badges, RFID, tags, biometric readers.
The identification allows authorized users to efficiently access and return the items they need without hindering workflow; it recognizes the parameters associated with that person and his job, such as the minimum/maximum withdrawal limits, the self-enrollmen to the training course on the proper use of PPE, the alert to return an article not yet returned ...
TECHNICAL CHARACTERISTICS:
Flexible configurations are tailored to fit your needs accommodating various sized and shaped items.
Cabinet dimensions

 190 (Hcm) x 100 (Lcm) x 45 (Dcm)

Number of boxes

18

Box height

 57,60 cm Large 
 30,00 cm Medium
 17,00 cm Small

Box depth

 45 cm

Display

10" colour touchscreen display with backlight

Badge Reader

Magnetic, RFID 125 Khz, UHF, Mifare, HID, Legic
or biometric reader

Data connection

Ethernet – WIFI bridge (optional) – Router 4G (optional)

Power supply

220 V - 12 V 50/60 Hz